291 Series End Mills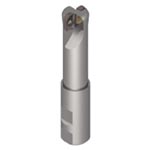 Geometry Specifications:
Axial: Positive
Radial: Negative


291 Series have a chip control insert for optimum tool performance with a large offering of insert corner radii. The back taper design is to allow reach in tight corners, with extended length tooling for long reach applications. The 291 series tooling accepts the same insert as in the 290 tooling.