293 Series End Mills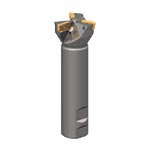 Geometry Specifications:
Axial: Positive
Radial: Negative


LOVEJOY Tool Company has a new ZAP or Z Axis Plunge mill, 293 Series, which is intended to be used in applications where there are increased metal removal rates and when tool overhang ratios are exceeded. Tool deflection is decreased when plunging as the cutting forces are directed back into the spindle. This new machining system comes in sizes ranging from 2.00" to 6.00" in diameter.