185 Series Face Mills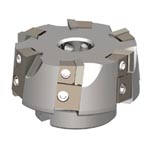 Geometry Specifications:
Axial: Positive
Radial: Positive



The 185 Series Face Mill has free cutting positive geometry which accomodates a variety of workpiece materials with precision hardware components to provide quick accurate insert indexing. These hardened hardware components provide body protection for superior tool durability. The 1° lead angle generates a near square 90° shoulder utilizing the standard SPC-43 insert and this series is engineered for balance and stability over a broad spectrum of applications.