217 Series Face Mills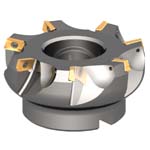 Geometry Specifications:
Axial: Positive
Radial: Negative
15° Lead



217 Series Face Mills utilize opposite corners of used APKT-1003 inserts from the 207 series end mills with a 15° lead, minimizes breakout, keeps envelope small, designed to work well in #30 and #40 taper machine spindles. The Hardened through bodies make this tooling enhanced durability and excellant dimensional control. These tools have a screw on insert for quick efficient indexing times. The APKT inserts chip controlled geometry design will machine a wide variety of materials with its grade LT-7175 which is a mid-temp multi-layered coating good for all materials as listed in the chart below.