HPSM Slab Mills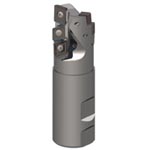 Geometry Specifications:
Axial: Negative
Radial: Negative
Shoulder -to 1.50 dia.: 90°
Axial: Negative
Radial: Positive
Shoulder -over 1.50 dia.: 90°



HPSM Series Slab Mills offer through coolant capabilities (only 1.25 diameter and up). Reverse helical flutes stabilize the HPSM during severe machining conditions. Helical flutes ensure smooth cutting action and excellent chip evacuation. Excellent overall length to diameter ratio ensures necessary rigidity and stiffness. CPEH-32.52 type inserts provide 4 indexes for greater economy. Inserts available in NEW PVD TiAIN coated grades 586XRm and 606jRm.