NBX Stepdex Face Mills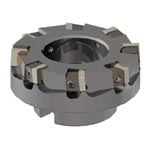 Geometry Specifications:
Axial: Negative
Radial: Negative


NBX Series Face Mill has strong negative geometry that provides superior edge strength during heavy metal removal applications and with the stepdex configuration it generates metal removal rates up to 2 inch per minute per unit of horsepower. The stepdex configuration provides excellent force and load management for over extended or weak setups. Lovejoys LTC-1200 Silicon Nitride material provides extraordinary tool life and operates in the advanced range machining parameters with 8 possible cutting edges per insert.