557 Series End Mills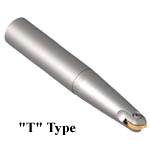 Geometry Specifications:
Axial: N/A
Radial: N/A

557 Series Ball End Mill cutters have a free cutting design that allows a wide variety of applications of materials. This ball end mills unique single insert design offers two cutting edges maintaining a strong unit. We offer a wide range of small and medium diameters with various extensions available. The single insert design offers accurate repeatability after insert replacement.