EMS Slab Mills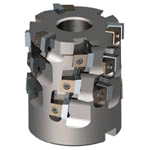 Geometry Specifications:
Axial: Positive
Radial: Negative
Lead - Sta. 1: 0° Axial: Positive
Radial: Positive
Lead - Other Stations: 0°




EMS Series Slab Mills (Shell Style) multipurpose geometry is suitable for a broad range of workpiece materials. Excellent overall length to diameter ratio ensures necessary rigidity and stiffness. Available in shell end mount or integral shank to accommodate most machine tools. Inserts available in NEW PVD TiAIN coated grades 586XRm and 606jRm.