EXSP Slotting Cutter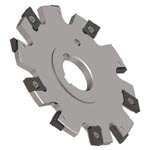 Geometry Specifications:
Axial: N / A
Radial: N / A

EXSP Series Slotting Cutters free cutting positive geometry accommodates a variety of workpiece materials. Tangentially mounted inserts supply strong cross section mass and facilitate narrow widths. Balanced engineering provides excellent force and load management to offset deflection. Simple lock screw and precision pocket ensure quick accurate indexes with little down time. Narrow widths of EXSP accommodate sawing and parting applications.