233 Series End Mills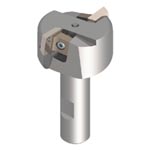 Geometry Specifications:
Axial: Positive
Radial: Positive



233 Series End Mills are dynamically balanced for 3,000 sfpm for high velocity milling of aluminum. Security Safe-Plus locking system ensures operator safety during extreme applications. The coarse pitch design accommodates heavy feed rates with excellent chip evacuation. "J" polished MECA type inserts create smooth clean cutting action on all soft materials. Combination NAS-986 (not shown)/ Weldon shank can be utilized in most machine tool types.